When the sensor calls
It is like a dream come true.
Running factories with hundreds of machines for forging, cutting, melting, extruding, all monitored continuously 24/7 by many more sensors. Gigabytes of data streamed directly in the cloud. Every alteration in the production is detected: vibration, temperature, pressure are measured and processed by AI . Eventually, a signal will trigger the red alarm: failure in 42 days, maintenance required. No downtime, no unforeseen costs, a boost of production. This is the Predictive Maintenance world, and no production asset, from chemical plants, to your own washing-machine, will ever, unexpectedly, break again.
Or, at least, this is the dream.
---
The aim of Predictive Maintenance (PrM) is to timely identify anomalies, and indicate a safe interval of time to perform the necessary repair. Figure 1 shows a typical component lifecycle, where an indicator of the component's health is plotted on the y-axis against time. This scheme is useful to see the advantages of Predictive vs Preventive Maintenance (PvM) vs Repair to Failure (R2F). In Figure 1, three different sectors, identified by numbers, can be noticed and each one represents a component cycle from the initial deployment (healthy status) until the failure or the repair.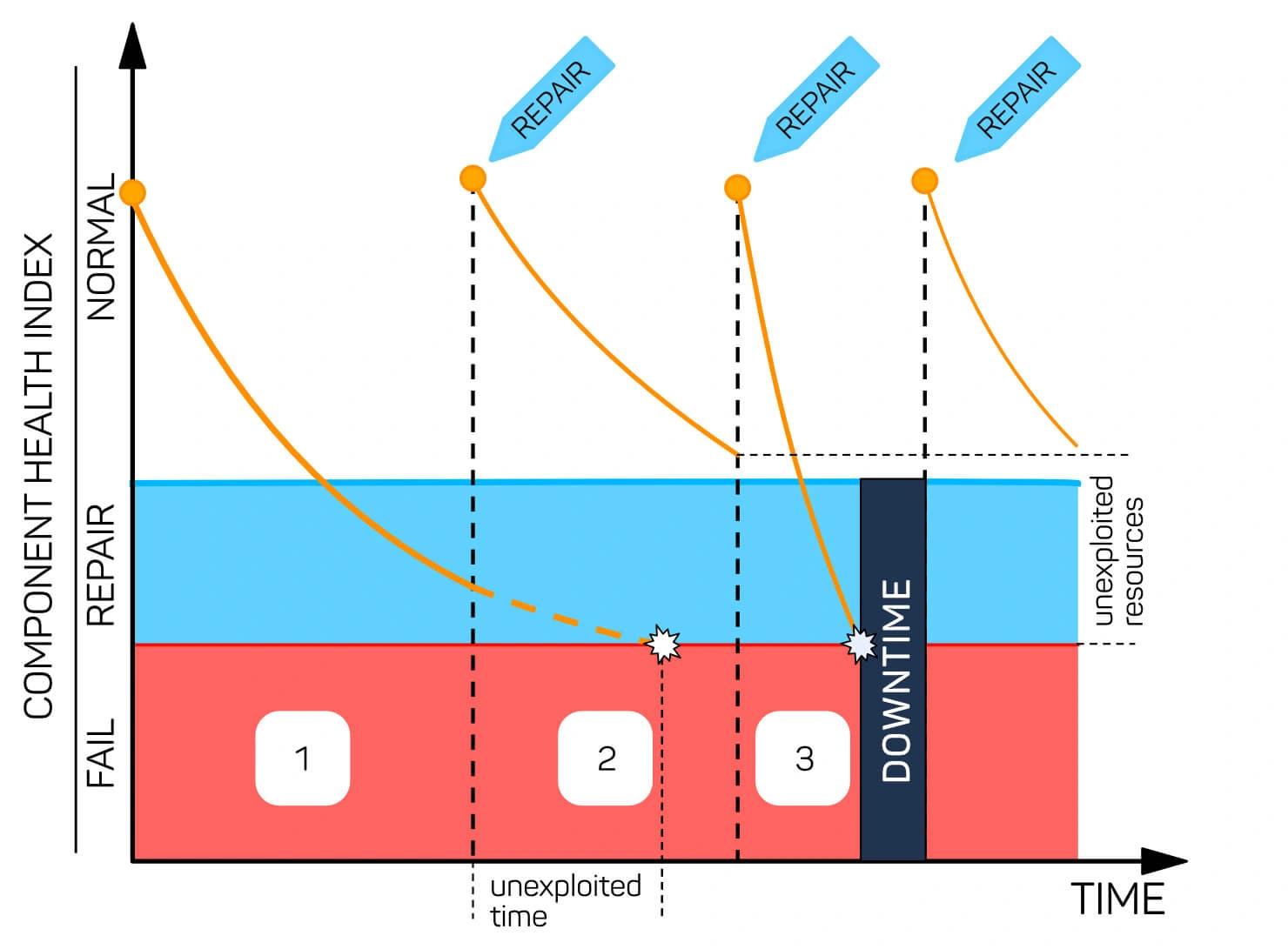 Figure 1. An inspection report. Dashed lines identify maintenance events, intervals are numbered from 1 to 3. The component degradation is random. From this data, one would start a Preventive Maintenance (PvM) scheme choosing the smallest life-cycle, interval 3. This would certainly result in unexploited resources. A Repair to Failure (R2F) scheme would, conversely, exploit all the available resources, yet producing unplanned downtime. A Predictive Maintenance (PrM) scheme would suggest an optimal repair time window to minimize the unexploited time and resources, avoiding unexpected downtime.
In the R2F strategy, the whole component life is used, e.g. a repair is performed only at failure, causing downtime and unpredictability. A preventive strategy would be implemented with calendar-based inspections at a frequency that is the shortest experienced component life-cycle (e.g. in Figure 1 the time interval identified with the number 3), resulting in sub-optimal exploitation of machinery lifetime.
A predictive strategy outperforms the precedent ones in terms of increase in resource utilization and decrease of repair frequency, for example in intervals 1 and 2.  An interesting case happens in interval 3, when the component experiences a fast degradation and the time window from the identification of the failure to the predicted failure is  very short (few hours). Well, in this case, extra costs for unplanned maintenance would be likely to occur, whatever the strategy is. Nevertheless, PrM would result in shorter or null downtime, and would also give the necessary time to take actions to exclude secondary damages (such as changing the production speed).
The supremacy of PrM over other strategies makes it very attractive. Truth is, that the path to the adoption of a Predictive Maintenance strategy is complex, and many factors affect the success of its design/deployment, such as:
//
Your job at Codecentric?
Jobs
Agile Developer und Consultant (w/d/m)
Alle Standorte
//
More articles in this subject area
Discover exciting further topics and let the codecentric world inspire you.
//
Gemeinsam bessere Projekte umsetzen.
Wir helfen deinem Unternehmen.
Du stehst vor einer großen IT-Herausforderung? Wir sorgen für eine maßgeschneiderte Unterstützung. Informiere dich jetzt.
Hilf uns, noch besser zu werden.
Wir sind immer auf der Suche nach neuen Talenten. Auch für dich ist die passende Stelle dabei.