Previously…
While part 1 , part 2 and part 3 were covering more generic thoughts, I want to share a concrete experience today.
Market overview
I was so convinced that the idea of working in a VR interaction room is awesome that I decided to put down all my thoughts in a virtual room. This way, I could prove my thesis while at the same time working on the concept. But how do you start working in a VR room while still designing it? As a product owner, I work with Roman Pichler's Extended Product Vision Board to outline any product I am working on. While filling out the competitors section, I figured out that there are already a couple of startups out there: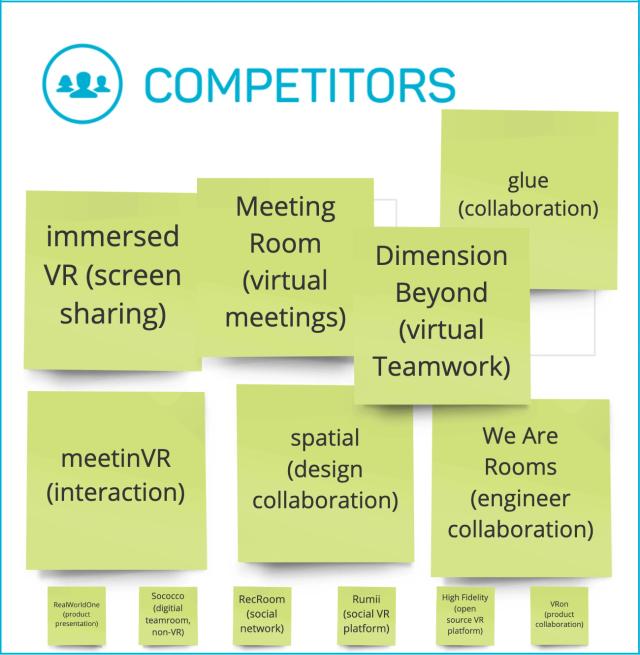 I found that some of them are actually quite close to my own vision. At first, I was frustrated because so many people had the same idea as I did. But then I realized that I can as well take it as a proof that my idea was not entirely stupid. After talking to two of the startups personally, I agreed with one of them to start an evaluation period. It didn't come free but I was willing to invest part of the innovation budget I had won into an actual product. At this point, I also invested into one Oculus Quest headset for each codecentric location so we could start meeting in VR and I could collect valuable feedback from my colleagues.
Eating my own dog food
My mentor and our innovation manager, Alexander Sachs , showed me a couple of other tools I can use apart from the Product Vision Board. So took screenshots of all of these canvases, "hung" them up in my VR room and started filling it. After some time, I realized that the application crashed – first only few times but the more "material" I added to the room, the more often it crashed.
After doing some experiments about the stability of the system, I figured out that the problem is with the images in the room. So I removed them and started drawing the canvases on the wall instead.
Then I tested with 200 sticky notes if the system would remain stable – yes, it did! So I started filling the Canvas with loads of sticky notes. Imagine the shock when I came back into the room one time and found it empty! 😮
After some debugging it turned out that the notes weren't actually gone, but they were just relocated to a position underneath the room which I could not access myself. The vendor's team put them back into the room but I had to place them against the walls where they belonged again.
After a second time observing this issue, I had to admit to myself that it is not very efficient to work this way and fell back to using miro .
Lesson learned
Although the product itself has a good quality and offers a variety of features, it still has some glitches – particularly on the Oculus Quest. I have not observed as many crashes when working with our HTC Vive headset. Anyway, it has to work on the Quest because that's the only reasonable device with respect to cost and (hardware) usability.
Obviously, a professional product has to spend extra time on Quest optimization and put stability as the highest priority.
Continue to part 5
//
Your job at codecentric?
Jobs
Agile Developer und Consultant (w/d/m)
Alle Standorte
//
More articles in this subject area
Discover exciting further topics and let the codecentric world inspire you.
//
Gemeinsam bessere Projekte umsetzen.
Wir helfen deinem Unternehmen.
Du stehst vor einer großen IT-Herausforderung? Wir sorgen für eine maßgeschneiderte Unterstützung. Informiere dich jetzt.
Hilf uns, noch besser zu werden.
Wir sind immer auf der Suche nach neuen Talenten. Auch für dich ist die passende Stelle dabei.