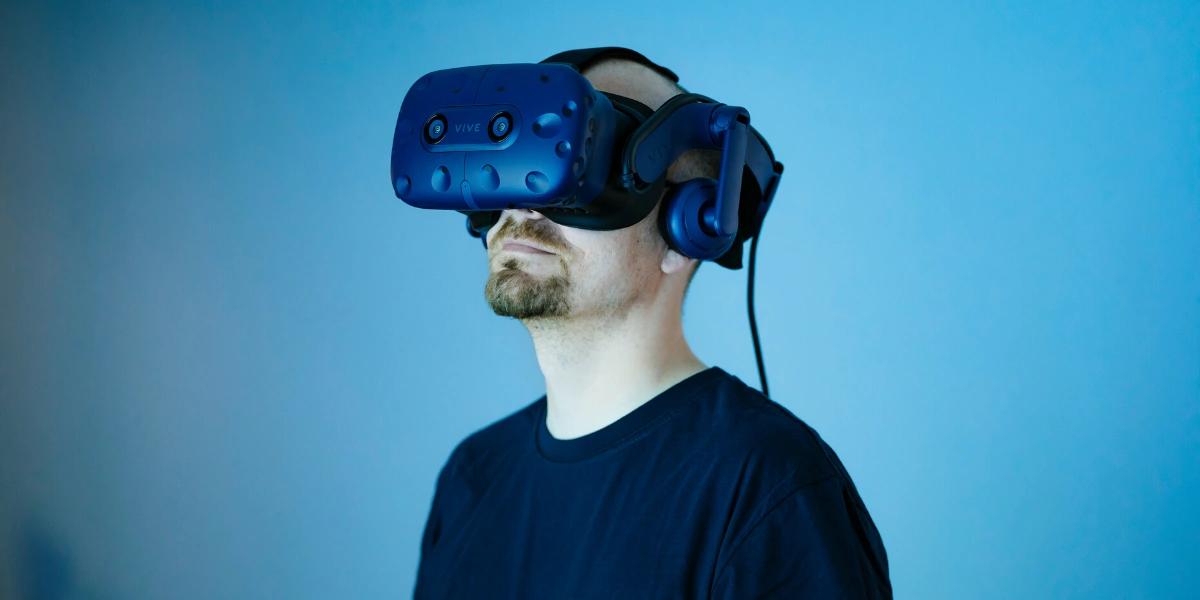 Previously…
In this episode of the blog series "VR virtual interaction room", I would like to share some experiences which are not software-related: over time, I have learned a couple of things that are required to prepare and execute VR meetings which I refer to as "Cheat sheet for VR moderators". Oculus itself is currently launching a programme called "Oculus for Business " in which they are following a similar approach.
If you want to catch up with previous episodes of this blog article series, here's a link collection:
1. value proposition and assets
2. usage scenarios and features
4. market overview and practical experience
General VR risks
The following risks are currently discussed in the community. None of them are a real threat but it is good to know them in order to be sensitive when indicators are observed.
motion sickness (mostly when locomotion is used for moving around)
myopia (Studies indicate that this is not a risk.)
addiction (The German movie "Play" is about this risk, link valid until September 2020.)

other psychological impacts caused by the high level of immersion (nightmares, vertigo, …)

headache (mostly caused by improper headset application , see below)
Logistics
VR meetings require hardware and infrastructure. Here are my learnings so far:
Figure out how many people will attend and make sure that sufficient headsets are available. Plan for spare ones to have a backup if something fails.

Book rooms / office space where required. Ideally, the space should be visually closed from public so the attendees have a good level of privacy. Eventually make signs "VR conference – do not disturb". 2m x 2m would be nice, less only when sitting, more only when safe.

It is helpful to have "VR ambassadors" at each location in case attendees are having their first VR meeting ever. The ambassadors can help the attendees with how to set up their space and how to adjust their headset for maximum comfort.

Charge the headsets prior to the meeting. Make sure that spare batteries for the controllers are available.

Obviously: Invite the attendees via calendar invites and provide all details in the invitation.

Plan for at least 2 virtual rooms – one welcome room or "lobby" and one where the actual meeting will take place.

If possible, get a co-moderator who will help people with technical problems during the meeting. 

Don't plan for long VR meetings, especially not with newbies. 30 minutes is OK, 20 minutes is better. Don't ever plan for meetings > 2 hours. Starting from 40 minutes, plan for breaks 
Basic VR Equipment
You don't need much extra equipment for VR meetings. Essentially the VR headset itself. The following tools have come in handy:
lens cleaning tissues

VR covers or disinfection spray

make sure that every VR headset is labelled (in case of Oculus, it is useful to note the last 4 digits of the hardware number) including controllers. This is particularly important if there are more than 1 equal devices available at the same location. 
  Before the meeting starts
By failing to prepare, you are preparing to fail. (Benjamin Franklin)
Set up a "lobby" and a meeting room with the proper assets and material required for your meeting.

Inform all attendees with a passion for hairdo to set up their hairdo in a way that it can easily be fixed after wearing VR goggles

 Make sure the room is not exposed to direct sunlight. Shadows casted from direct sunlight have a very high contrast. Thus, they can change the surrounding scene drastically causing the tracking to get lost.

Let attendees have a (real live -)chair to sit down when required.
Additionally for "VR-newbies"
If someone is using a VR virtual interaction room for the first time ever (or had only few experiences with it), it will be good to have someone standing next to him/her who knows VR. This "VR coach" should take 5-10 minutes to explain the newbie the following basic things:
What will you see first when wearing the glasses (home virtual room, app selector, …)?

What is the space in the real world where you are safe and how does the system take care of you (how does the guardian work)?

How do you wear the headset comfortably?

Where are the buttons on the controllers and what do they typically do? Don't forget the "home" button that brings you back to the VR main menu.

Set the headset to maximum size (loosen all straps) before starting. By this you make sure that everyone can slip into the headset easily and at the same time, he or she will be "forced" to adjust the straps as required for his / her head size.

How can you move in the VR world: walking in the real world within the guardian area, locomotion (mention motion sickness) and teleport. Tell the newbie that we will mostly use teleport.
When the meeting starts
Once the time for the meeting has come, do the following:
Welcome the attendees in the lobby, not in the actual meeting room to separate the onboarding process from the actual meeting (see above). Tell those attendees who are already experienced to directly enter the actual meeting room so they won't feel bored about hearing things twice or thrice.

Explain the remaining attendees how to comfortably wear the headset and to speak up if they start to feel uncomfortable at any time during the meeting.

Also remember to drop a word on adapters being available for people wearing glasses and the interpupillary distance (IPD) settings. Here's a video   how to measure it, I like the part where Apple's TrueDepth camera is used to conveniently measure your IPD. 

Explain the features of the used software, ideally with assets that are available in the lobby. These should be prepared exercises to get familiar with teleporting, locomotion, muting, voting, scribbling and drawing, sharing, writing sticky notes, using the given assets (if required), gestures, and best practices.
During the meeting
When everybody is "onboarded" and the meeting is in progress,
ask for the well-being of the participants in the beginning and every now and then to make sure the device itself doesn't hamper the meeting content,

when writing in 3D, try to use "handwriting" letters ("Schreibschrift"), as the letters will stick together and move easily, and

keep an eye on your time-box and stick to the planned breaks (see above).
On closing the meeting
Finally, at the end of the VR virtual interaction room meeting,
tell the attendees to check the (real-life) mirror after removing their headsets before walking into public (they might have a muppet face ), and

kindly ask the attendees to fill out the feedback forms or let them volunteer for personal interviews (whatever they prefer).
continue to part 6
//
Your job at codecentric?
Jobs
Agile Developer und Consultant (w/d/m)
Alle Standorte
//
More articles in this subject area
Discover exciting further topics and let the codecentric world inspire you.
//
Gemeinsam bessere Projekte umsetzen.
Wir helfen deinem Unternehmen.
Du stehst vor einer großen IT-Herausforderung? Wir sorgen für eine maßgeschneiderte Unterstützung. Informiere dich jetzt.
Hilf uns, noch besser zu werden.
Wir sind immer auf der Suche nach neuen Talenten. Auch für dich ist die passende Stelle dabei.