Auf den XP Days 2012 haben wir einen Open Space angeboten, an dem alle Teilnehmer der Konferenz mitmachen konnten. Die Idee hinter dem Open Space war es, gemeinsam eine Web-Anwendung zu entwickeln. Wir haben für die Infrastruktur gesorgt, eine Continuous Delivery Pipeline bereitgestellt und beim Aufsetzen der Arbeitsumgebung geholfen. Danach konnten sich alle Entwickler User Stories vom Board nehmen, Ideen vorschlagen oder eigene Themen in der Software umsetzen (z.B.: Refactoring, Unit-Tests, Akzeptanz-Tests, …). Das Ergebnis der 2 Tage in Hamburg ist in dem Video zu sehen.
Video der Anwendung
Fachliche Details:
Bei der Anwendung handelt es sich um eine Konferenz-Software, die alle Sessions inkl. Speaker + Details anzeigt, mit Kommentar/Bewertungs-Funktion, Twitterwall und weiteren Features.
Technische Details:
Build Tool: Maven
Programmiersprache: Java
Web Framework: Spring MVC
Layouting/Styling: Twitter Bootstrap
DB/ORM Framework: Hibernate
Applikation Server: Tomcat
Jenkins als Continuous Integration + Continuous Delivery Server
Your browser does not support the video tag. Download Video
Video der ersten Akzeptanztests
Für die Akzeptanztests wurde jBehave eingesetzt [jBehave] . Tipp: Ab Sekunde 40 wird es interessant und man sieht, wie jBehave Firefox started und die Tests ausführt.
Your browser does not support the video tag. Download Video
Fotos
Anbei ein Foto der Continuous Delivery Pipeline, die im Projektraum den ganzen Tag an die Wand projiziert wurde. Bei jedem neuen Checkin wurde die Anwendung gebaut, alle Tests ausgeführt und das aktuelle Artefakt auf der Testumgebung vollautomatisiert deployt. Das Deployment auf die Produktionsumgebung erfolgte manuell, durch ein "One-Click"-Deployment.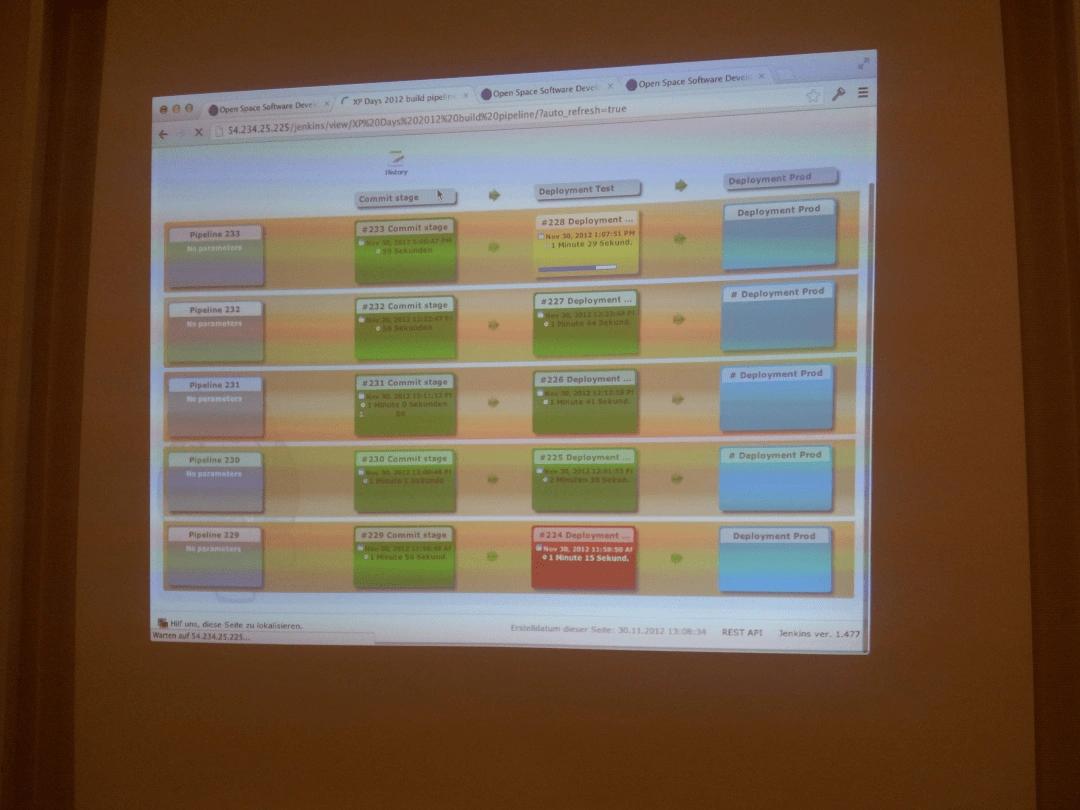 Hier ein Foto des Produkt Backlogs, dass im Projektraum für die Standups verwendet wurde und den Fortschritt der einzelen User Stories darstellt.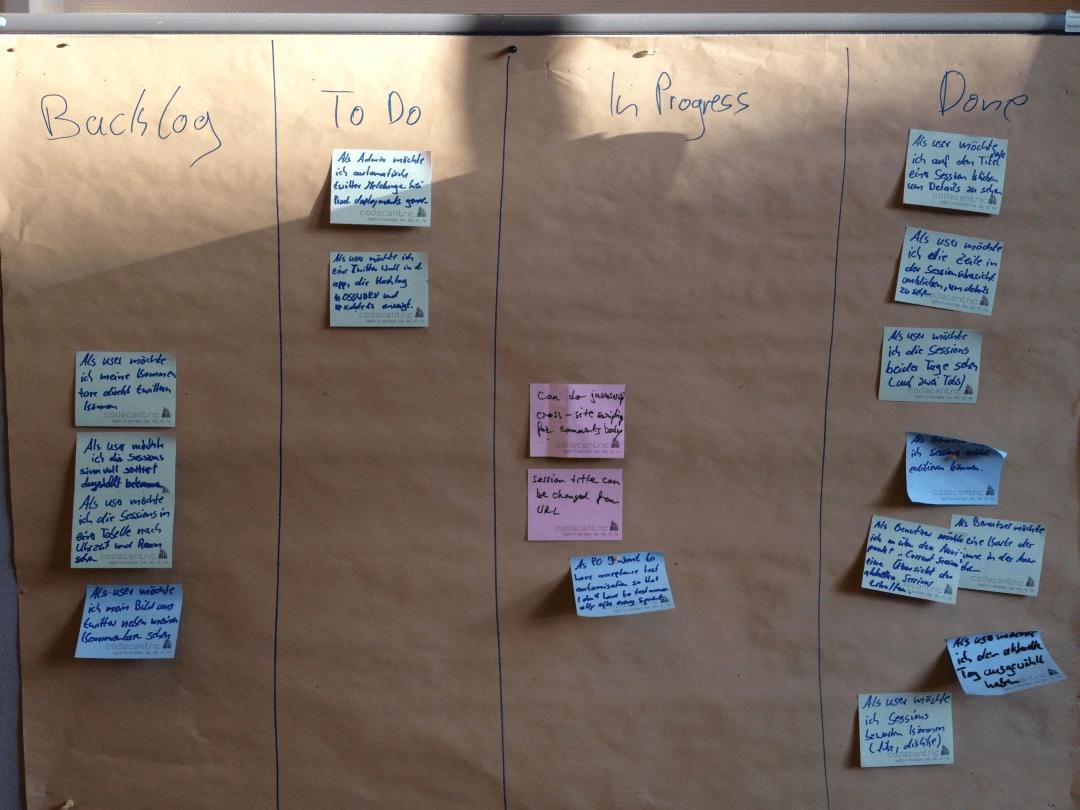 Wir bedanken uns recht herzlich bei allen Teilnehmern, für 2 erfolgreiche Tage auf den XP Days 🙂
//
Dein Job bei codecentric?
Jobs
Agile Developer und Consultant (w/d/m)
Alle Standorte
//
Gemeinsam bessere Projekte umsetzen.
Wir helfen deinem Unternehmen.
Du stehst vor einer großen IT-Herausforderung? Wir sorgen für eine maßgeschneiderte Unterstützung. Informiere dich jetzt.
Hilf uns, noch besser zu werden.
Wir sind immer auf der Suche nach neuen Talenten. Auch für dich ist die passende Stelle dabei.